Get the best call center service for your business
CALL CENTER SOLUTIONS
In today's personalized world, you expect exceptional customer support. Nearly all businesses recognize this and are updating their systems to meet your needs. Your challenge? Getting top-notch call center service without overspending. Small businesses need to watch their budgets, and even large companies need extra help handling numerous calls. The solution? Outsource to a reliable service provider. It ensures you get seamless support tailored just for you.
What is a call center service?
You're in charge of a call center, where you handle phone calls from both current and potential customers. You can either receive calls (inbound) or make calls (outbound), and your center might be within your company or managed by experts in call center services.
Now, contrast this with a contact center. While you focus on calls, a contact center keeps customers engaged through various service channels. It's all about active conversations versus continuous connections!
Benefits of Call Center Services
Call center services deliver significant benefits to businesses. Firstly, they provide seamless customer support, ensuring swift query resolution and enhancing customer satisfaction. Secondly, these services streamline operations, allowing companies to focus on core tasks while professionals handle customer interactions. Thirdly, call centers are cost-effective, eliminating the need for extensive in-house support infrastructure. Moreover, they offer valuable insights through data analysis, aiding in strategic decision-making. Ultimately, call center services fortify customer relationships, boosting brand loyalty and revenue.
Call Center Support Services
Call center support services play a pivotal role in enhancing customer satisfaction and operational efficiency for businesses. These services provide immediate assistance, ensuring prompt query resolution and improved customer experiences. By outsourcing customer support, companies save on operational costs and can focus on core activities. Additionally, call center support services offer valuable insights, aiding businesses in informed decision-making. Ultimately, they foster stronger customer relationships, boosting brand reputation and loyalty, which translates to increased revenue and growth.
Q: How do call centers work?
Call centers provide services that are used by businesses of all sizes to increase sales, such as:
Financial Institutions
Telcos
Insurance companies
Online merchants
Telemarketing companies
Computer software
Product help desks
Mail-order organizations
Polling services, charities
Law firms
Medical practices
Real estate companies
Property managers
Any large organization that uses the telephone to improve customer service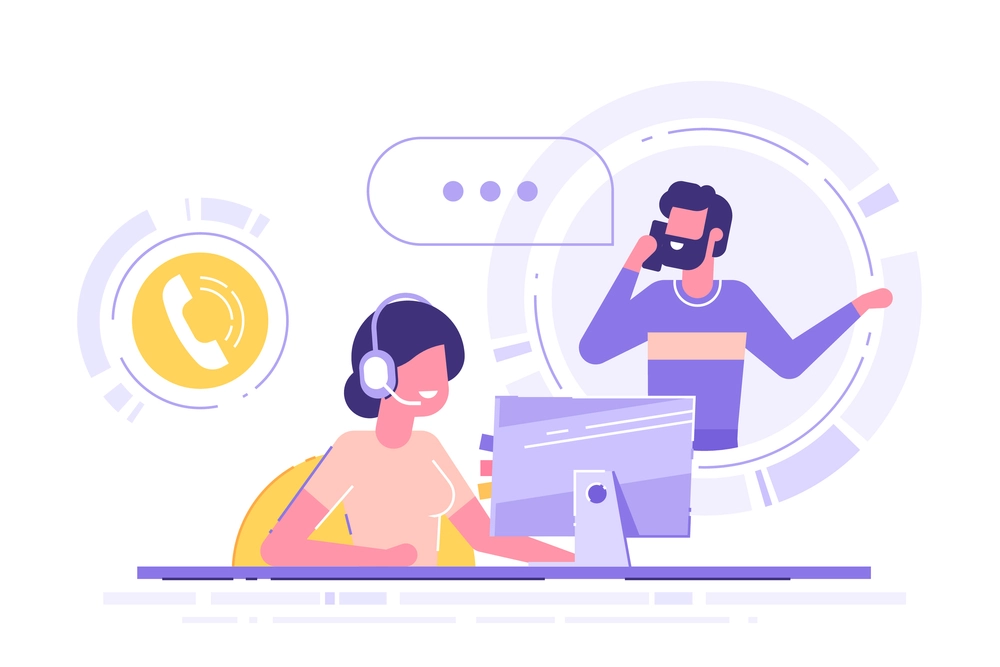 Call Center Services Outsourcing
Call center services Outsourcing is a strategic move that empowers businesses in numerous ways. By leveraging external expertise, companies streamline customer support, ensuring 24/7 availability and swift query resolution. This approach substantially reduces operational costs, allowing businesses to invest in core activities. Furthermore, call center services outsourcing offers access to skilled professionals well-versed in customer interactions, enhancing brand reputation. Ultimately, it fosters increased efficiency, customer satisfaction, and overall business growth, making it a crucial strategic choice for modern enterprises.
Call Center Answering Services
A call center answering service is a game-changer for businesses seeking impeccable customer service. With this service, companies can ensure 24/7 availability, meeting customer needs at any hour and enhancing satisfaction. Moreover, it relieves businesses from the burden of handling large call volumes, allowing them to focus on core tasks. The service guarantees professionalism, leaving customers with a positive impression. Ultimately, a call center answering service enhances customer experiences, strengthens brand reputation, and drives business growth.
What is the difference between inbound vs. outbound call centers?
The call centres for inbound and outbound calls are inherently different. Outbound contact centres perform targeted sales calls, whilst inbound call centres act as answering services and call centres that receive calls. The two call centres have different goals. To foster loyalty and keep customers, inbound centres typically respond to customer complaints. Outbound centres are working to pique buyers' attention in the meanwhile.
Owned and run by your business are internal call centres. The staff at your organisation handles hardware upkeep, installation, configuration, and in-house software creation or software buying. The task of answering the phone is assigned to employees.

Companies who can't afford to recruit agents and spend money on training, offices, and technology tend to prefer outsourcing contact centres because they are typically a less expensive choice. They use a BPO (Business Process Outsourcer) to offer the agents and occasionally the infrastructure needed to deliver Call Centre services on behalf of the main business.
The technology can be provided as a service by a Service Provider who hosts the software and the technology in the Cloud (Cloud Contact Centre), or it can be deployed on-premise (Premise-based Contact Centre), where the software is hosted and operated on the company's premises.
Invest in an Outsourced Call Centre Service to Expand Your Business
Here are five ways that an outsourced call center can help grow your business.
Gain and Retain Customers - One of the main reasons for lost business is missed calls. Potential clients may hang up and do business elsewhere if they have to wait for a lengthy period on hold or if they can no longer reach you "after hours."

Save Costs - Taking care of your client service is typically not cheap. To manage peak times, you need staff as well as the required technology and training. The expenses mount. The cost of an external call centre is typically lower than an internal one.

Ensure a Professional Reputation - It's crucial to consider the image your company presents. Professionals with training who understand how to provide appropriate customer service are employed by outsourced call centres. A call centre, however, can also give the impression that a tiny company is much larger than it actually is.

Improve Efficiency - Call centres contain modern technology and efficiency methods that let you interact with clients more efficiently and boost sales. Turnaround times can be sped up, follow-ups and outgoing calls can be planned and carried out, and incoming calls can be prioritised according to their priority.

Broaden Your Customer Base - When your company is growing, you want to serve a variety of clients. Your customer base can be expanded by using outsourced call centre services that offer multilingual help in a number of different languages.
OUTSOURCE CALL CENTER SERVICES TO PRIMEBPO
We are aware that a successful business depends on happy consumers. Our services give you access to your customers around-the-clock. We respond to their questions in a timely manner and professionally. With our help, you can outsource call centre services and benefit from the following:

Our workforce is made up of skilled, multilingual contact centre employees who have been trained to deal with customers from all backgrounds.

We offer a variety of services, including virtual receptionist, IVR, and 800 answering services.

We're dedicated to cooperating with you as a partner to achieve your company objectives.

We believe in total transparency and allow our customers to make informed business decisions.
If you have any queries regarding call center services and want to know how to start, reach out to our experts anytime.